Cloudforest Coati (A2 Size)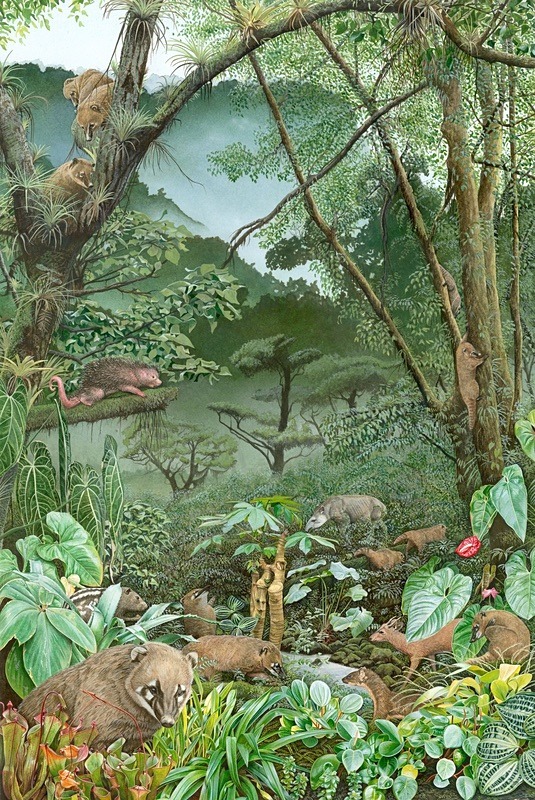 Original watercolour illustration for sale. Click on
BUY NOW
button below for purchase options.
Cloudforest Coati
Back in the mid 1990's when I was asked to create this major illustration, very little was known about the cloudforest Coati. The extent of my research spanned numerous visits to botanical gardens and zoos around the UK, including many hours of researching imagery from library books and, more importantly, discussions with leading wildlife experts at the time. Considering my efforts, information and resources were considerably limited. Essentially, this artwork is a unique and personal interpretation of the cloudforest coati and its habitat.
About the artwork...
Design brief:
Produce an A2 educational poster illustration showing your interpretation of the cloudforest Coati in its natural habitat. The artwork should illustrate typical characteristics of the Coati and its natural environment.
Medium:
Watercolour and gouache
Paper:
Arches hot press watercolour paper
Size:
The artwork is approximately A2 in size (420 x 594 mm / 16.5 x 23.4 in)
Other information:
This unique illustration took over 4 months of continuous work from conception to completion.
It is unpublished and no fine art prints have been made.
The artwork is currently unframed but there is a purchase option with professional framing included.